When cooperating across sections there may arise a line of potential problems, mainly in regards to the communicative aspect. These problems arise as a result of the clashing of different expertise, authorities and cultural differences. In relation to this a professor within the field of management by the name of Jody H. Gittel has come up with her theory of relational coordination. This theory is mainly focused on the public sector, it is however still applicable for international private organizations. By using this theory as a tool, this theory can help analyse the interpersonal processes, which could potentially be barriers for optimal efficiency. This theory has furthermore been the foundation for multiple Danish consultants, whom have come with their own additions to this theory. Consultants such as Carsten Hornstrup claim that the definition of a good relationship is subjective, and a certain relationship can therefore be seen in two completely opposite ways. A relevant factor in this is the individuals authoritative position within the hierarchy of the organization, whereas leaders will often have a more positive outlook on the relation.
Jody H. Gittel has put up a negative and positive spiral with the purpose of illustrating what indicates a positive and negative relationship. The reason it is illustrated as a spiral is that, a relation is heavily built upon the communication and likewise. There is therefore no real 'starting point' and one should try to improve one of the following aspects, in order to breakthrough the next until it comes into full circle.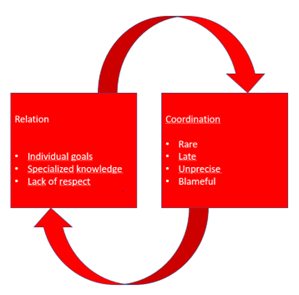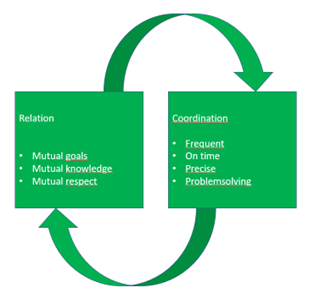 The theory of relational coordination is based on two different dimensions: Relations and communication. The quality of these aspects are defined as such:
Relations:
Mutual goals: Same interpretation of the mission objective within an organization, where a task is solved based on a set of common, clarified goals. This is also synonymous with the organization's vision, so it is crucial that everyone is on the same page regarding the overall goal.
Mutual knowledge: To which degree are the different groups familiar with each others professional field and competences? This is not only about perfoming one another's list of duties, but also knowing and understanding them.
Mutual respect: Whether the different groups feel acknowledged for their contribution to solving the common task. This is where the higher placed personnel may show a lack of respect other groups, which ultimately affects the common engagement in a negative way
Communication:
Frequent and timely: This indicator revolves around whether communication is timed correctly, often and interpreted in a meaningful way. The overall coordination suffers if the communication is too frequent, too rare or timed incorrectly.
Precise and problemsolving: Is the communication constructive, practical and relevant? The task needs to be presented in a comprehensive way for the receiver, and needs to address the actual issue at hand.