How to work with the risk
Before you deal with the risk, you need to identify what hazards exist in your workplace, and how likely they are to become a risk. After this you can decide what mitigation or control measures are needed.
What is a risk assessment?
The risk assessment is a systematic process which is designed to allow individuals or firms without any specific security background to conduct a basic security risk assessment as part of any wider assessment process. The tool evaluate the potential risk that may be involved in a projected activity or undertaking.
This assessment tool is broken down into three steps which are needed to eliminate or control risks:

This post will only focus on the first step of the risk assessment. Are you interested to learn more, keep in touch – we'll post the 2nd step in a week!
Step 1: Identify the hazards
Look critically at your organization's context in terms of operational processes, sources of risks and the outcome.
There are a wide variety of hazards that can affect the firm entering a new context. Below are some of the most common classifications of hazard to consider.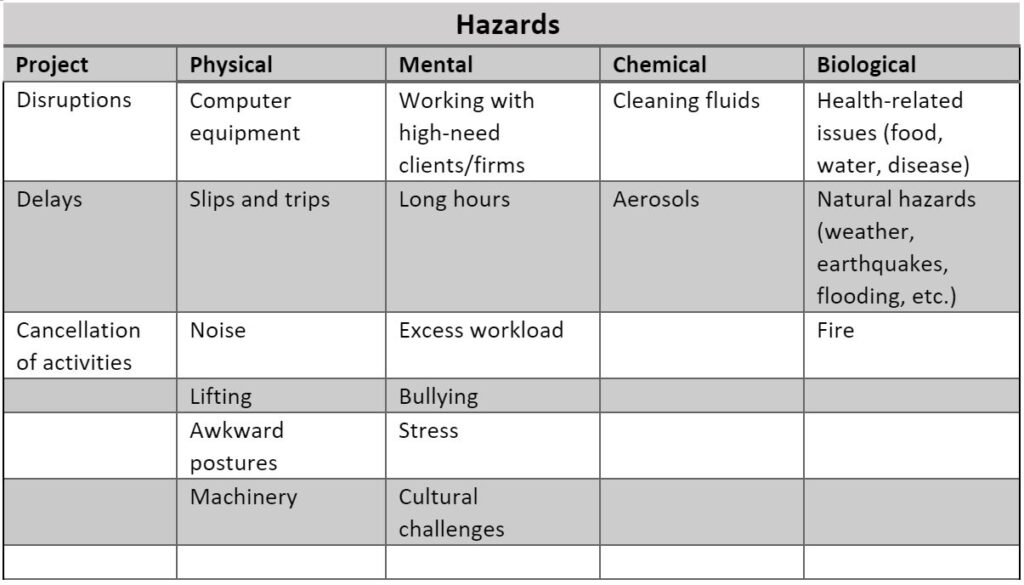 Tip: You and your employer must systematically check and track for possible hazards in a risk log or register!
Sources:  
Damon P. Coppola (2015) "Introduction to international disaster management" 
European interagency security forum (2020) "Security to go: A risk management toolkit for humanitarian aid agencies" 
Humanitarian Practice Network (2010) "Good practice review – Operational security management in violent environment"